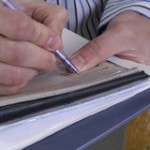 I received a phone call from my boss. He received a phone call from our customer about all that was happening at the Plymouth location . He said I got rave reviews! Not only that but that I was going to receive a 2.00 an hour tip from them! They said, "We want to reward his obedience to God." My boss was surprised by the statement as was I. I work around 280 hours a month for them.
Later this week a man from the law firm that represents this customer came to see the project manager. He later stopped by to see me. I greeted him and he introduced himself. He verified that I was Trevor. He told me that after he had heard about all the healings and God stuff that was going on he came to put a cease to it. But…his boss told him not to do any such thing! Apparently his boss is the Vice President of operations that I encountered last year. (Wisdom from God story.) He was told that I was legit and let me be! I smiled and asked if his Name was Joel. He said Yep. I responded that I remembered him very well.
Then the lawyer asked me the strangest thing. He said," After I heard all of this and even my boss believes it, would you pray for my mother? She has breast cancer and lives in Florida. I was surprised but said yes. He started to get off the bus. I asked him to wait. I asked her name and if he would pray with me. He acted uncomfortable but said ok. I explained the power of agreement and love. I told him you love her, you want her healed so I will agree with you. I will pray but I want your heart and mind involved. Show the Lord in your heart and mind all of the love you have for her and ask Him to heal her. I will pray the rest of the way. Just say what ever comes to your mind. Now lawyers never seem to be at a loss for words but he was. In time he got it out and even cried a bit. I prayed and after we chatted a bit. He shook my hand and told me he would let me know if anything changed. Go God. Jesus is on the move here!!
~Trevor, Prior Lake